Commission Comparison Chart Example
The chart below shows LurraLife pays more than any other company.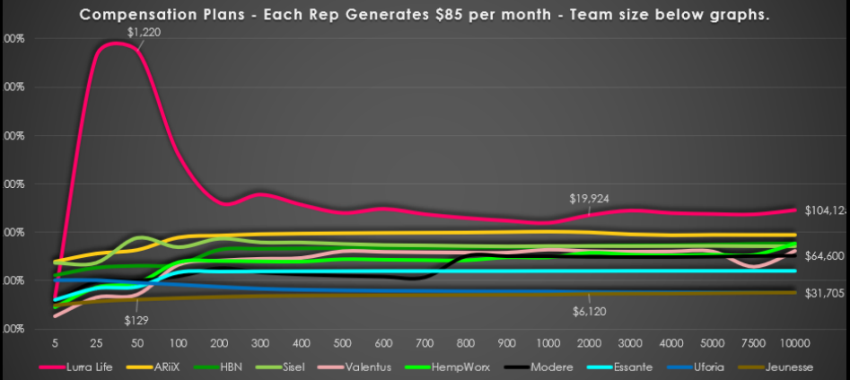 I want you to look at the chart above that compares our compensation plan with several others and then consider these points!
Most people join a Company at the bottom of the pay plan.
You have hoops to jump through, qualifications to meet, once you hit one qualification they reward you with higher autoship & more qualifications to advance in the pay plan & to make matters even worse they put your success in the rank climbing in the hands of your team doing certain things so if they aren't doing it you can't advance no matter how hard you try. Some even require you to do X amount of personal presentations or you don't get your full pay!! Now THAT is not residual walk away income you can will to your loved ones. I have a friend that was in such a plan & he had a personal illness that kept him from working as hard as he would've & his check was cut big time.
In Lurra Life you will never be required to purchase more than 1 product no matter how much you earn.
50% check match on the very first person you sponsor. I know one guy on the team earning over 1000 a week just sponsoring 1 person. In Lurra Life we are provided with all the tools, websites, capture pages, auto-responders, contact managers, complete blue print of training AND A FULLY PAID FOR BY THE COMPANY CALL CENTER!!!! Nobody does all this.
Finally, somebody stepped up to the plate & is doing things different. Why is it so many people struggle & fail in this Industry? Many reasons but here's something your Company owner nor your upline wants you to see!!!
I hope it makes them all change their ways but I doubt it because it's about their bottom line.
What if there was a Company that:
You can max the comp plan with just a 40.00 product order.

Pays out 75%

50% retail customer profits on every order of your customers.

Has 50% check match plus 5 generational 10% check matches. Get paid to work with your team members.

Has a one of a kind & exclusive rights to a product that everyone should take from infants to elderly, where people are seeing results immediately.

Has life saving products to stomp out Heart Disease & Diabetes.
Has a proven ORIGINAL Detox tea that has done millions in sales and people are losing 5 pounds in 5 days!!

Is paying people per pound lost in a challenge where every one wins not just one or 2.

Is rewarding you for every step you take on your daily journey to better health.

Has awesome energy, mood enhancing, appetite suppressing coffee and capsules.

Had a professional in house call center that took all your calls, answered questions, handled objections & CLOSED your sales for you! ( Paid for by the Company not you )

Has a sample system providing you 250.00 worth of samples to build your business.

Is feeding hungry kids with every product sold and sample given out!

Has car bonuses, prizes, trips and more. INCLUDING an additional 500.00 car bonus with just 20 people on your team and less than 2000 in volume. You can even earn this bonus twice!!!

All of this is real & of course they don't want you to see it because they can't compete. Why would anyone continue to pay high auto-ships, make measly commissions, have to make phone calls & try to recruit or worse yet teach their teams to do it!! They don't want you to see this because they know they will lose people like crazy!! It's already happening and it's about to get even better.

Are you going to be part of it or are you going to watch it happen then kick yourself for not grabbing hold of the opportunity?

Are you where you want to be financially?

How's your health as you age?

Do you have time freedom?
Look at this:
Let's get serious about it and DO THIS!!!